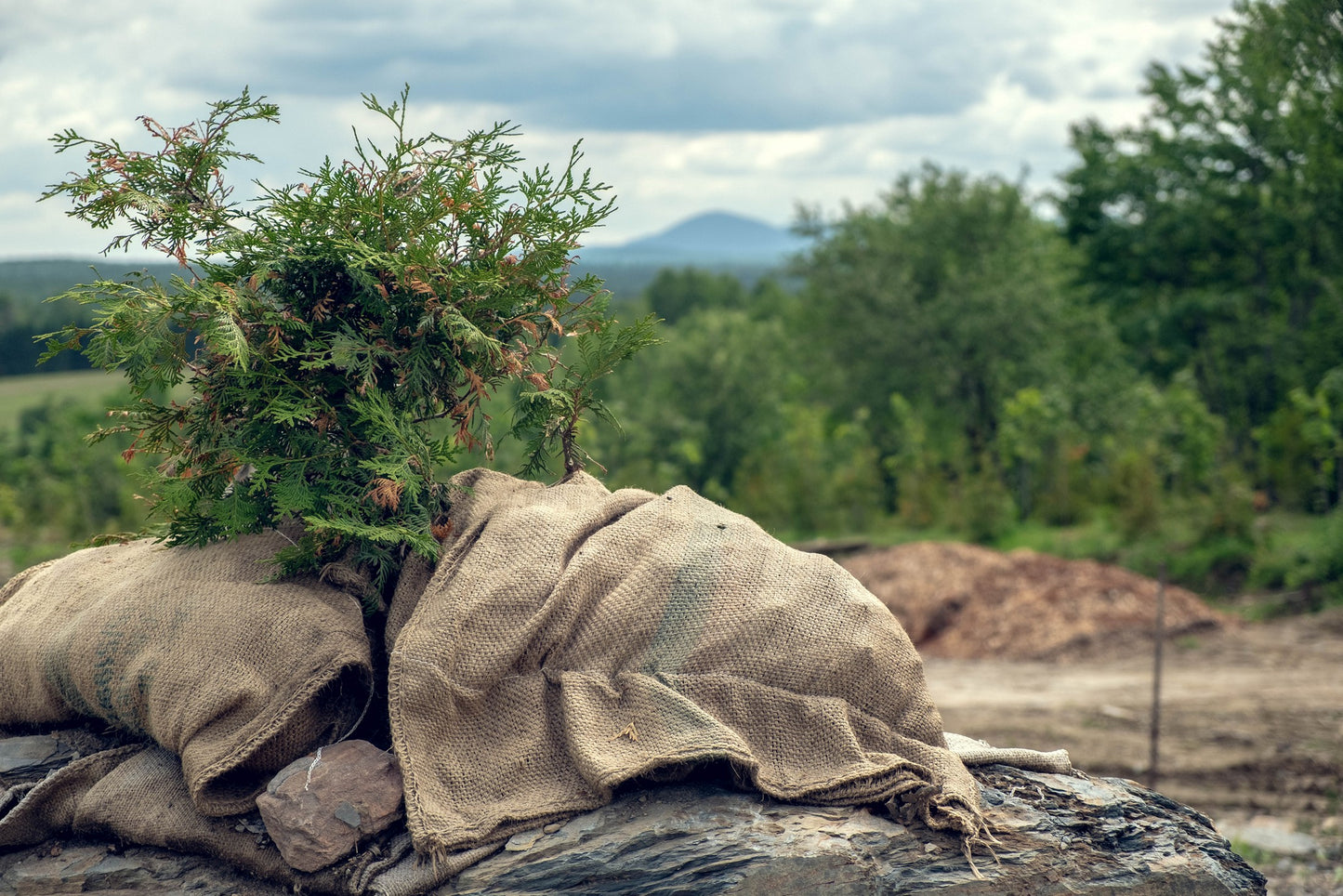 Did you know? Our jute bags have not been thrown in the trash since 2018! With a view to reducing our environmental footprint, Café William is in fact taking part in a circular economy movement which enables all our jute bags to be reused.
We are one of the first companies to have concluded industrial partnerships based on the principles of industrial ecology in the Eastern Townships, Quebec!
Jute bags are the bags in which green coffee (unroasted coffee) arrives at our plant. Being one of the largest importers of organic and fair trade coffee in Canada, jute bags arrive by the ton, every day!For several years now, our jute bags have been reused, thanks to the industrial symbiosis project set up by Synergie Estrie. In fact, our waste makes other people happy now because of circular economy! This initiative allows some of our waste to be reused by a business that needs it, diverting tons of waste from landfills.Our partner in this project is ArborInnov, a company focused on "developing, planting, and monitoring value-added plants." They use our jute bags to help their trees grow. The bags are used to smother weeds to encourage the growth of newly planted trees. In addition, ArborInnov uses the natural capacity of certain plants, associated with fungi, to capture or eliminate toxic products and pollutants that have contaminated soil in order to rehabilitate contaminated land. In order to promote the establishment of young shoots in these environments where conditions are difficult, the roots of the plants are contained in a jute bag which contains a rich and nutritious soil. The company previously had to source this material from Asia.
From now on, Café William's jute bags upcycled by ArborInnov will divert more than 60 tons of waste from the landfill each year and considerably reduce the GHG (greenhouse gas) emissions of the two companies.

The production of more than 73,000 kg of CO2 is avoided, the equivalent of 60 return flights from Montreal to Paris!
Less raw materials extracted, less energy used, fewer kilometers traveled (around 20 km separate the two companies), a smaller ecological footprint and substantial savings on both sides!
Learn more about our initiative to recycle our coffee peels, another organic waste that brings joy to a local business, right here.